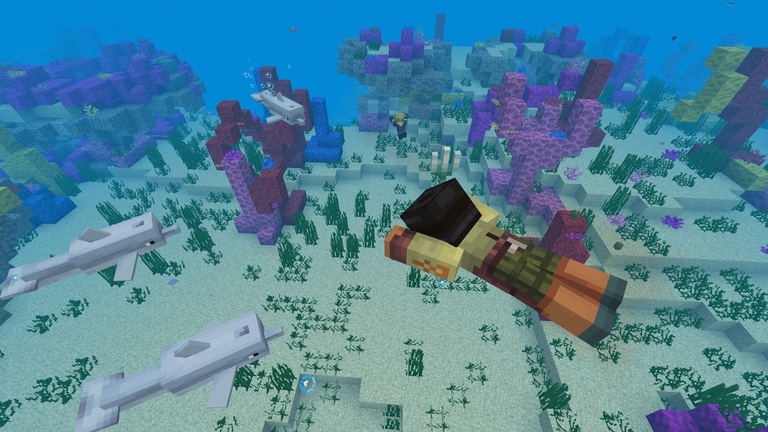 Als großer Minecraft-Fan habe ich gute Neuigkeiten: Das Aquatic Update ist nach langer Wartezeit nun endlich auf der Xbox One und dem PC verfügbar. Da Gewässer bisher relativ leblos waren, soll diese Aktualisierung den Ozeanen von Minecraft mehr Leben einhauchen. Das Update ist so groß und weitreichend, dass der Entwickler Mojang beschlossen hat, es in zwei Teilen zu veröffentlichen. Der erste ist jetzt verfügbar, während Phase zwei laut Mojang "bald kommt".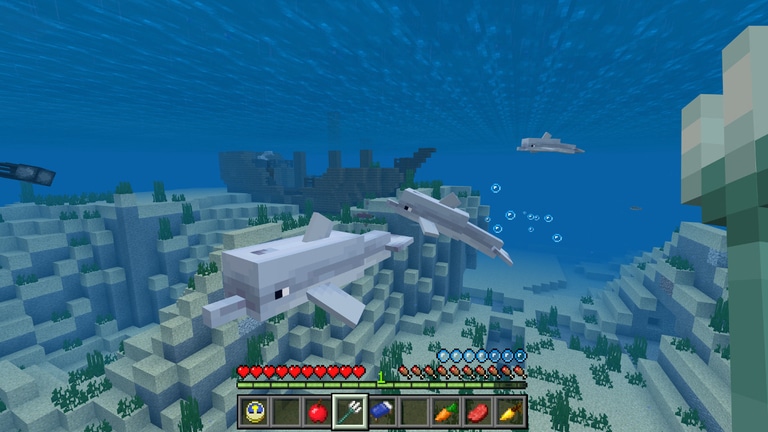 Minecraft-Spieler können nun in neun neuen Ozean-Biomen auf Entdeckungsreise gehen und unter anderem Korallenriffe, Seetang, Unterwasserschluchten, Höhlen, Schiffwracks, Schatztruhen, Delfine und weitere Meerestiere bestaunen. Sogar Eisberge und blaues Eis sind in kälteren Gewässern zu finden.
Dies ist die komplette Liste aller Features:
Fish (salmon, cod, pufferfish, tropical fish)
Bucket of fish
Coral (coral, coral fans, coral blocks)
Kelp, Dried Kelp, Kelp Block
Dolphins (follow boats, get a boost swimming next to them)
Icebergs
Blue Ice
Nine Ocean Biomes (frozen, deep frozen, cold, deep cold, lukewarm, deep lukewarm, normal, deep normal, warm)
Underwater Ravines & caves
Sea grass
Sea pickle (w/ illumination! Up to 4 in a block – only light up underwater)
Shipwrecks
Treasure chests (in ruins, shipwrecks)
Ruins
Swimming
Treasure Map
Buried Treasure
Heart of the Sea in buried treasure chests (non-active)
Trident
Trident enchantment
Stripped Logs
Buttons, Trap Doors, Pressure Plates with variation
Carved Pumpkins
Floating Items
Boat Polish (smoother control)
8 new achievements
Water has a completely new look and increased visibility while underwater
Prismarine Stairs and Slabs
New swimming animation while sprinting in water
Minecraft: Education Edition Chemistry features can now be enabled under Cheats! For tips on getting started, check out the Chemistry Lab Journal
Da ich sehr lange auf das Update gewartet habe, ist diese Neuigkeit ein Grund, mich wieder in das Spiel zu stürzen. Vielleicht finde ich die Zeit, meine aktuelle Welt, an der ich einige Monate gearbeitet habe, weiter auszubauen. Das Update ist neben der Xbox One und dem PC auch auf mobilen Geräten, Gear VR und Oculus verfügbar – die anderen Konsolen sollen das Update in naher Zukunft erhalten.
Spielt ihr noch Minecraft? Was haltet ihr von diesem großen Update? Lasst es mich in den Kommentaren wissen!
---
(Bild-)Quelle: Minecraft Homepage