https://store-images.s-microsoft.com/image/apps.17703.13510798887933723.57e43f19-4066-429e-b1a2-caea56e427b4.f555e1de-d116-4ab1-bed1-408a78622ba6?w=92&q=80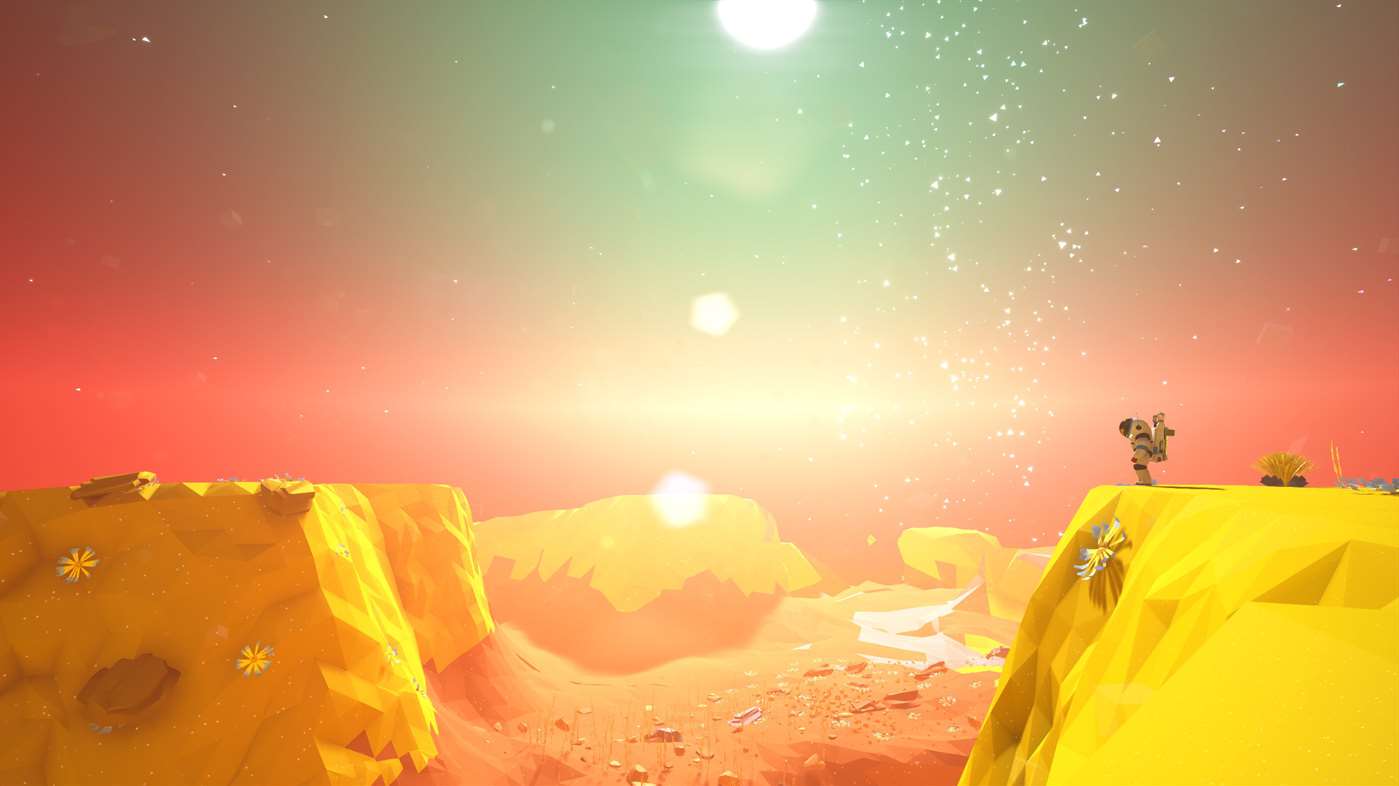 Seitdem Astroneer Ende 2016 als Game Preview-Alpha veröffentlicht wurde, waren die Entwickler stets bemüht an neuen Updates zu arbeiten. Auch ich schaue ab und zu in das Game hinein, um mir die neuen Features anzusehen. Selbst wenn es sich noch immer in der Alpha-Phase befindet und einiges an Inhalten und Feinschliff benötigt, ist das Konzept des Spiels äußerst einzigartig.
Für alle, denen Astroneer nichts sagt: Es handelt sich um ein Sandbox-Adventure, das den Spieler in die Rolle eines auf einem Planeten gestrandeten Astronauten schlüpfen lässt. Die Planeten der offenen Welt unterliegen der prozeduralen Generierung. Der Spieler kann sich zu Fuß, per Mond- oder Raumfahrzeug fortbewegen. Ein Mining-Tool ermöglicht es, Ressourcen zu entdecken, Landschaften neu zu gestalten und dunkle Räume zu beleuchten. Das Neugestalten der Landschaften äußert sich in einem weitreichenden Terraforming-Tool, das dem Spieler nahezu unlimitierte Freiheit gibt. Das Spiel unterstützt zudem Einzelspieler- und Coop-Modi für bis zu vier Spieler. Zudem ist das Spiel ein Xbox Play Anywhere-Titel: Wenn ihr das Game besitzt, könnt ihr es sowohl auf der Xbox One als auch auf dem PC spielen. Auch Cross-Play zwischen beiden Plattformen wird unterstützt.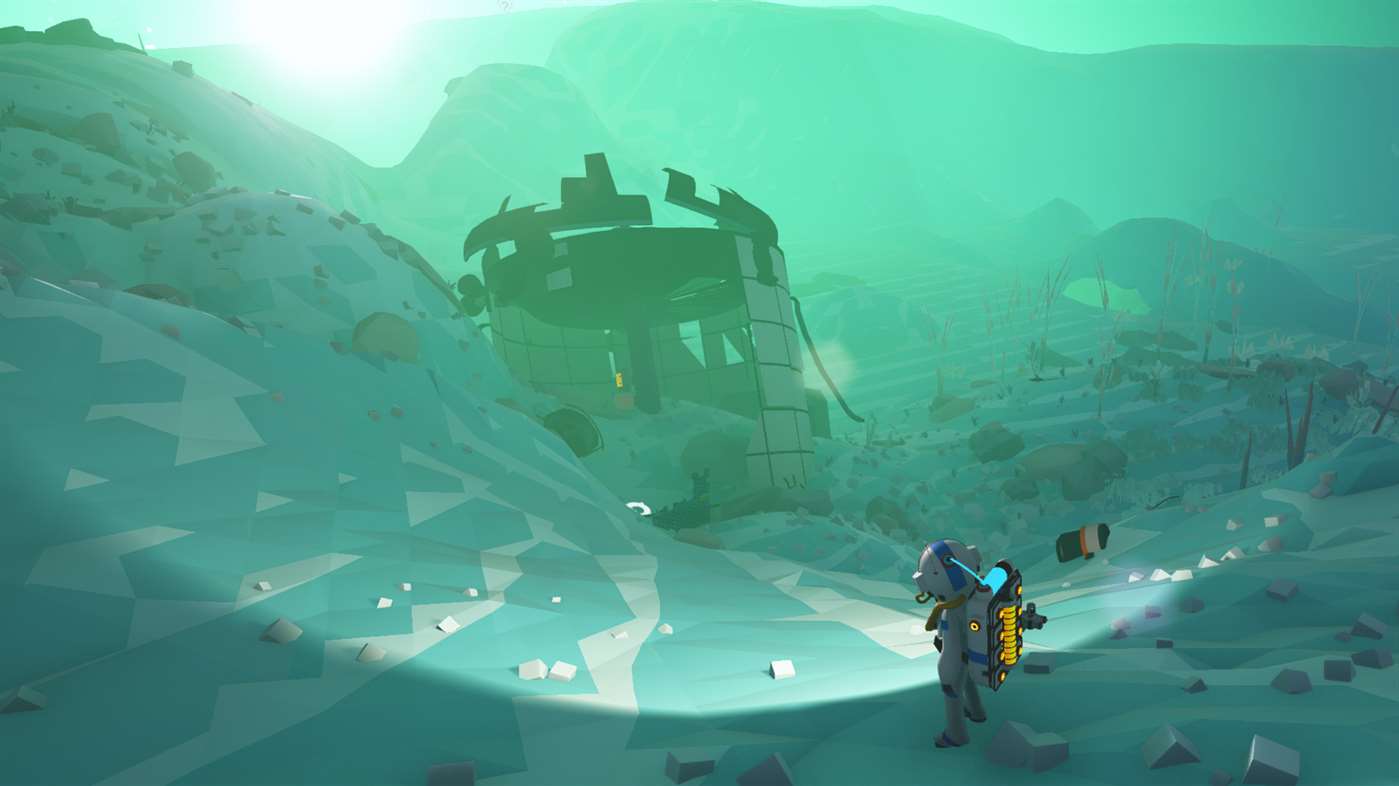 Exo Wrecks
Das neueste Update 0.9.0 erweitert das Spiel mit neuem Gameplay und neuartigen Objekten, die im Laufe des Spiels entdeckt werden können. Zu diesen gehören sogenannte Exo Wrecks, auf dem Planeten verteilte Strukturen, die unter anderem kleine, abgestürzte Landungsschiffe, Solar- und Windparks, verlassene Weltraumhäfen sowie ausgedehnte, leere Außenposten umfassen können. Einige davon sind sogar noch einigermaßen brauchbar, sodass der Spieler diese plündern oder auch seine neue Basis dort errichten kann.
Shredder
Der kleine und der mittlere Shredder wurden dem Spiel hinzugefügt: Shredding ist eine neue Gameplay-Mechanik in Astroneer, mit der Spieler gefundene und erstellte Materialien verwenden können, um die neue Ressource Schrott zu erstellen. Schrott entsteht durch das Zerlegen von nicht mehr benötigten Gegenständen und Modulen oder zerstörten Gegenständen und Trümmern, die man in der Welt findet. Spieler können diesen dann verwenden, um ihn mit der Handelsplattform gegen Materialien einzutauschen.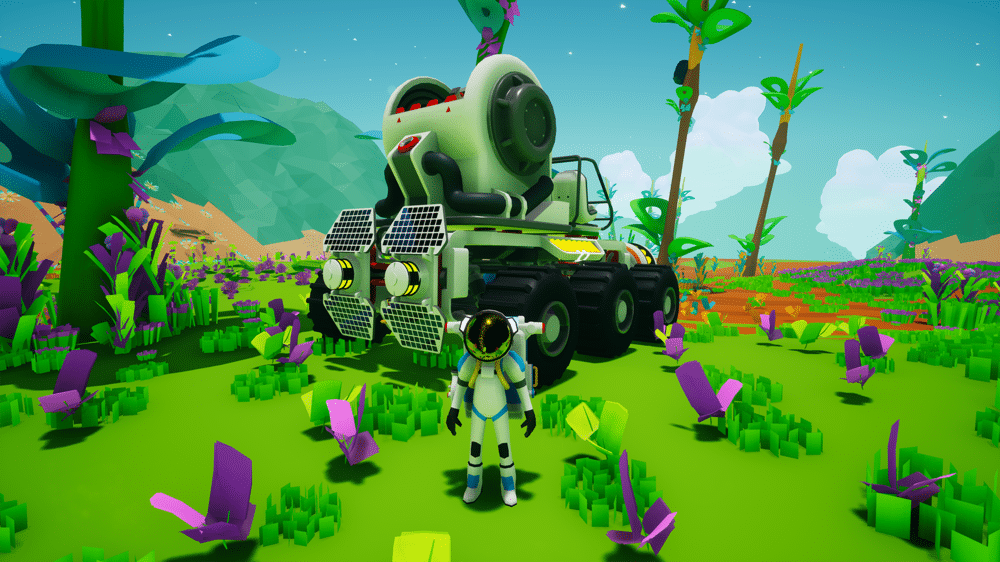 Handelsplattform
Die Handelsplattform wurde aktualisiert, um die Haupthandelsquelle für Schrott zu werden. Anstatt mit Crafting-Materialien zu handeln, kann man jetzt die Handelsplattform dazu verwenden, um im Austausch für benötigte Ressourcen Schrott zu versenden. Die Wechselkurse werden im Laufe der Zeit je nach Spieler-Feedback weiter angepasst.
In-Game UI Verbesserungen
Im Zuge der fortlaufenden Verbesserungen der Benutzeroberfläche im Spiel wurden die Visualisierungen des Power- und Oxygen-Status anstelle von Fließtext in Symbole und Benachrichtigungs-Tags geändert. Auch werden nun in Multiplayer-Sessions Informationen über andere Spieler angezeigt.
Bugs und Crash-Fixes
[AS-3127] – Fixed a crash that occurred when printing a Large Shuttle both a Power Nugget and directional power to the Vehicle Bay.

[AS-762] – Fixed a UI bug where the text on the Vehicle Bay would flip upside down when approaching it in a vehicle.

[AS-877] – Fixed a long standing issue in the Trade Platform where the trade resources would appear inconsistently between client and host players in Multiplayer games.

[AS-2792] – Fixed an Audio issue where storm effects would not return if a player entered and then exited a cave during a storm.

[AS-2840] – Footstep sound effects have returned!

[AS-2841] – Fixed an Audio issue where the Lowpass filter would remain in effect after dying.

[AS-3048] – Adjusted the headers in the Quick Help menu so they no longer overlap in Windowed mode or with longer translations.

[AS-3065] – Fixed a bug where a Terrain Analyzer occupying a Backpack slots would interfere with the ability to place objects directly into the Backpack.

[AS-3097] – Fixed a camera collision issue that occurred when a player would pan across in front of the Habitat causing the Landing pad to flicker in and out.

[AS-3104] – Small platforms should no longer topple over easily on uneven ground.

[AS-3106] – Filter hologram should once again be present on the Backpack printer preview.

[AS-3114] – Fixed an issue where an unusable Examine prompt would appear when selecting the Small Fabricator in your Backpack.

[AS-3129] – The Dropship should no longer be deployable when it is placed on a Shuttle.

[AS-3149] – Fixed an Audio issue where  only the first hydrazine canister attached to a shuttle would play its associated SFX when fuel is transferred into shuttle tank.

[AS-3150] – Fixed an annoying issue where Hard Terrain and its surrounding terrain could not be flattened together without the appearance of a small gap or jagged edges.

[AS-3175] – Tooltips no longer remain visible on the Terrain Tool after closing the Backpack.

[AS-3289] – Fixed a major issue on the Xbox One causing the game to not save after entering the Habitat and then powering down the console.
Spielt ihr Astroneer? Was haltet ihr von diesem Update? Lasst es mich in den Kommentaren wissen!
Entwickler:
‪System Era Softworks‬
---
Quelle: Astroneer Forum
Bildquellen: Astroneer Forum, Microsoft Store