Laut eines Berichtes von den Kollegen von ZDNet, verhindert momentan der Fehler 80248015 unter Windows 7, das aktualisieren über den Windows Updater.
ExpiryDate überschritten?
Das Problem könnte an einem ExpiryDate Eintrag liegen, der auf Seiten Microsofts aus bisher nicht geklärten Gründen nicht erneuert worden ist. Windows denkt, es sei abgelaufen und updated deshalb nicht.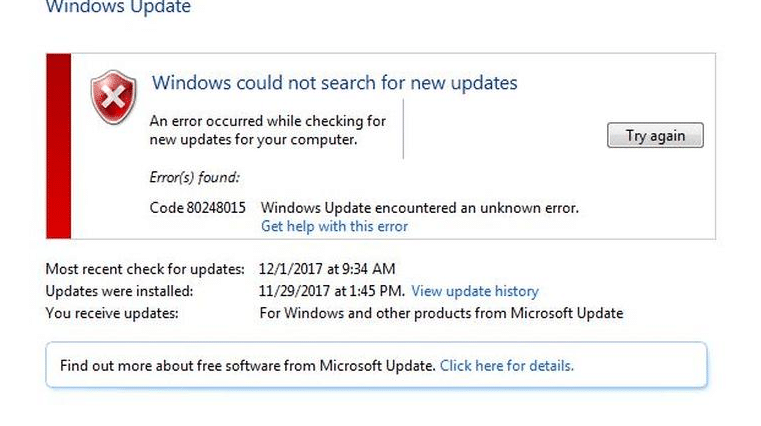 Ein Forenmitglied bei der Seite ComputerWorld, stellt folgende Beobachtung an:
Did you realize that we've passed "ExpiryDate"? I didn't so I had problems with Windows/Microsoft Update.

Look at "c:\Windows\SoftwareDistribution\AuthCabs\authcab.cab" file.

There is information about valid date:

<IssuedDate>2013-12-03T11:59:25.5067616-08:00</IssuedDate>

<ExpiryDate>2017-12-03T11:59:25.5067616-08:00</ExpiryDate>

We must wait for newer file … or revert system's date to older than 2017-12-03.
Ein ähnliches Problem gab es schon einmal mit Windows XP und Windows Server 2003. Auch hier spuckte der Windows Updater die Fehlermeldung aus und weigerte sich Updates zu suchen.
Was tun bei Windows 7 Fehler 80248015?
Betroffene Nutzer können bei Fehler 80248015 nicht viel tun. Das Problem muss von Seiten Microsofts behoben werden. Ihr könnt versuchen das Systemdatum vor den 3.12.2017 zu setzen – der Erfolg ist aber weder garantiert, noch wird das eigene Problem gelöst. Ein Upgrade auf Windows 10 ist natürlich die sicherste Methode, das Problem aus der Welt zu schaffen.
Windows 7 ist weiterhin das beliebteste Desktop Betriebssystem der Welt. Microsoft sollte sich mit dem Fix für Fehler 80248015 also beeilen.
Seit ihr von diesem Windows 7 Bug betroffen?