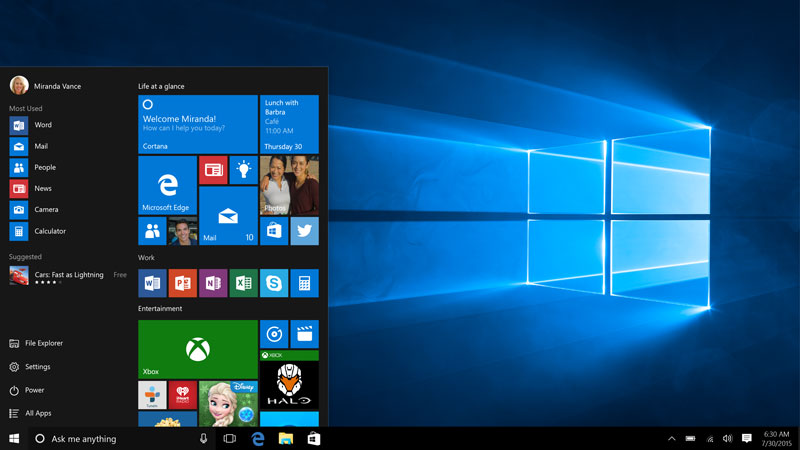 Kaum gelauncht, schon preisgekrönt: Das Windows 10 Startmenü wurde von der Industrial Designers Society of America (IDSA) mit dem Preis in der Kategorie Digital Design ausgezeichnet.
Als Schöpfer des Windows 10 Startmenüs werden namentlich die Designer Jaclyn Knapp, Callil Capuozzo, Jeremy Bowen und Holger Kuehnle sowie das Windows Start Feature Team benannt.
In ihrer Urteilsbegründung würdigt die IDSA die 20jährige Geschichte des Startmenü's als "Ankerpunkt" für die Windows-Erfahrung und lobt die Umsetzung in Windows 10 als gelungene Zusammenführung des traditionellen Menüs von Desktop PC's und der modernen Kachel-Elemente von Phones und Tablets. Das erlaube es dem User, sein Wissen von einem Gerät auf ein anderes zu übertragen.
Im Wortlaut heißt es:
"Since its inception more than 20 years ago, the Windows Start menu has been the anchor point for launching apps and getting users to the content they care about. With Windows 8 and Windows Phone 7, Microsoft continued the evolution of the Start screen by adding live tiles which surface relevant and personal information to the user from apps and services. With the Windows 10 Start design, the experience of launching and switching apps is unified across the familiar and learned legacy of the Start menu on desktop PCs—and the modern capabilities of the Start screen on phones and tablets. The design allows users to leverage what they know from one device and apply that knowledge to using a different device in a contextually appropriate manner."
Das neue, alte Startmenü ist sicherlich eines der meistgelobten (und meistbeworbenen) Features von Windows 10. Microsoft ist es gelungen, etwas Neues zu schaffen und dem User gleichzeitig ein vertrautes Nutzungserlebnis zu versprechen, egal ob er von Windows 7 oder Windows 8 kommt. Von daher halte ich den Preis für absolut gerechtfertigt und sage: herzlichen Glückwunsch, Microsoft!
Übrigens: Falls euch das Windows 10 Startmenü doch nicht vertraut genug ist, erklären wir hier wir ihr die Kacheln aus dem Startmenü entfernen könnt.
Wie gefällt euch das Windows 10 Startmenü? Ist der Designpreis gerechtfertigt? Diskutiert mit in den Kommentaren!
---