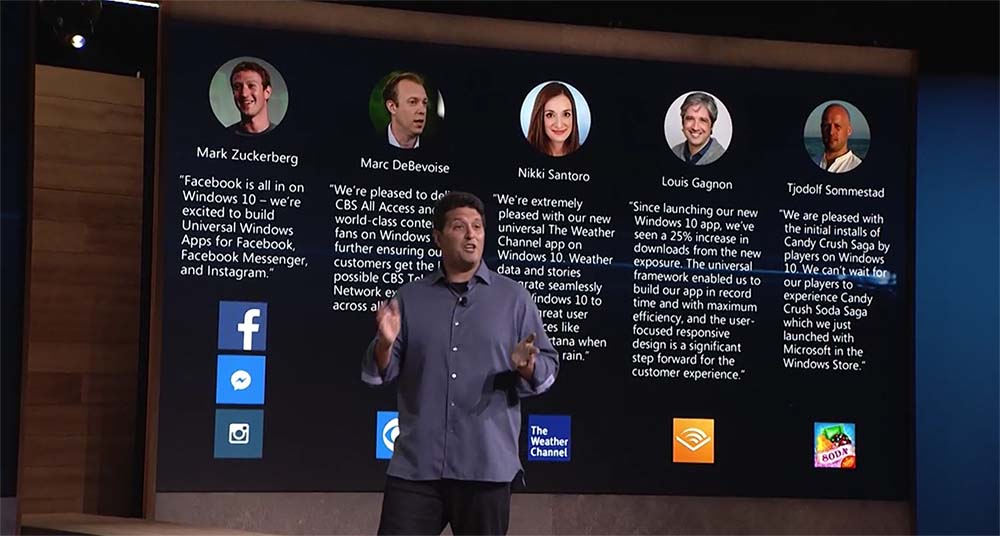 Terry Myerson hat zu Beginn der Konferenz am Dienstag die aktuellsten Zahlen rund um Windows 10 verraten. Gleich im Anschluss ging es um neue universelle Apps für Windows 10. So soll es von folgenden Anbietern neue universelle Apps geben:
Facebook
Facebook Messenger
Instagram
Twitter
Shazam
Box
Netflix
Audible
Ebenfalls gibt es Apps von NASCAR, CBS Interactive und The Weather Channel, wobei diese für Deutschland nicht weiter von Bedeutung sind. Die Apps scheinen noch in Arbeit zu sein. Wann genau diese Apps dann kommen werden ist noch nicht bekannt. Hoffentlich schaffen es die Entwickler noch vor dem Release von Windows 10 Mobile die neuen Apps zu veröffentlichen.
Auf dem Windows Blog geht auch leider kein Veröffentlichungstermin hervor:
Myerson announced Facebook will be building universal Windows apps for Facebook, Instagram, and Facebook Messenger. And, new universal Windows apps coming to Windows 10 include Box, Candy Crush Soda Saga, Flipagram, NASCAR, Uber and many, many more.
Wer den Post näher ansehen möchte kann das hier tun: App Partners & Windows 10
Freut ihr euch auf die neuen universellen Apps?
---
Quelle: Windows Blog