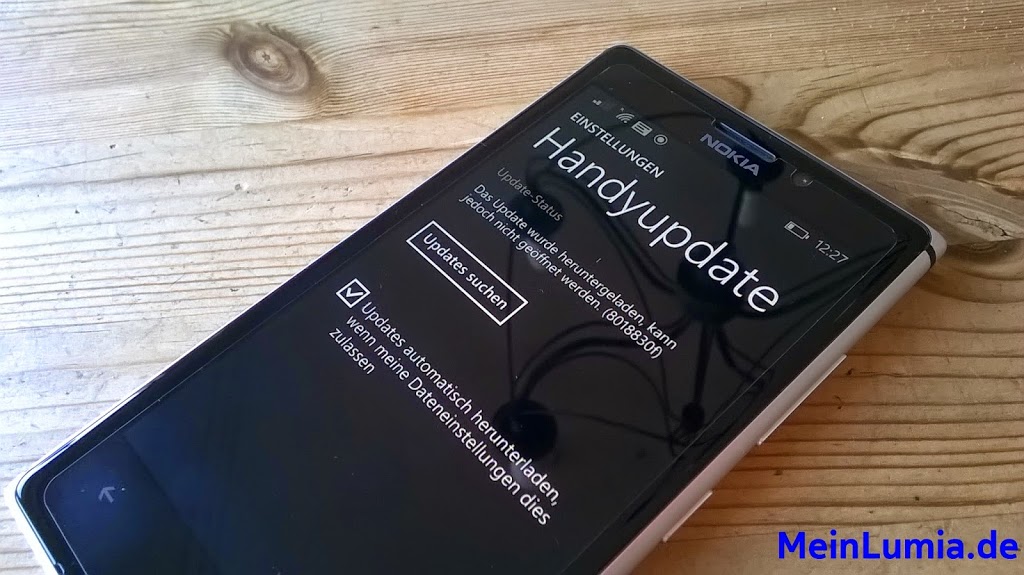 11:29 Uhr – Seit gestern verteilt Microsoft das Windows Phone 8.1 Update 1 an Nutzer der Developer Preview. Bei einigen Nutzern treten jedoch Probleme auf, hauptsächlich kann das Update nach dem Herunterladen nicht geöffnet werden. Auch bei meinem Lumia 925, auf dem das Cyan Update bereits installiert ist, tritt dieses Problem auf – bei ungefähr 13% der Update-Vorbereitung wird das Update abgebrochen. Dann erscheint die Fehlermeldung 8018830f, "Das Update wurde heruntergeladen, kann jedoch nicht geöffnet werden".
Auf Twitter gab Joe Belfiore, zuständig für Windows Phone, nun bekannt, dass man an einer Lösung für die Probleme während des Updates arbeite. Eine Wiederholung der Installation bringe nichts – der Fehler 8018830f taucht so lange auf, bis das Problem von Microsoft gelöst wurde. So auch bei meinem Lumia.
"Folks seeing error 8018830f on update- we're looking into it, thx for letting us know. Its a very small %, so the rest of you keep going!"
"PS – if you hit the update error, it's unlikely that retrying will work. We think it's related to low system storage. Give us some time.."
Wie Joe Belfiore weiter schreibt, handelt es sich lediglich um eine kleine Anzahl an Nutzern, die das Update aktuell nicht installieren können. Möglicherweise liegt es an zu wenig Systemspeicher. Konntet ihr das Update installieren, oder taucht auch ein Fehlercode auf?
Update, 08.08.14: Wie Microsoft offiziell bestätigt hat, wurde das Problem nun behoben, das Update kann installiert werden. Auch bei mir konnte das Update 1 jetzt heruntergeladen und installiert werden, ohne einen Fehlercode. Derzeit arbeitet Microsoft noch am Fehercode 80188308, einem Problem bei dem das Update wegen zu wenig Systemspeicher nicht installiert werden kann. Wichtig: Hierbei handelt es sich nicht um "normalen" Speicher, den ihr durch Löschen von Daten freigeben könnt.