Interbrand hat sein Best Global Brands Ranking für das Jahr 2020 veröffentlicht und dieses dürfte Microsoft freuen. So hat sich der Markenwert von Microsoft im Vergleich zum Vorjahr um stolze 53 Prozent gesteigert. Damit haben die Redmonder einen ihrer größten Konkurrenten hinter sich gelassen und befinden sich nun in den Top 3 der Best Global Brands.
Ebenfalls interessant: Windows 10 Oktober 2020 Update (20H2): Das ist neu
Microsoft lässt Google hinter sich und sichert sich dritten Platz bei den Best Global Brands 2020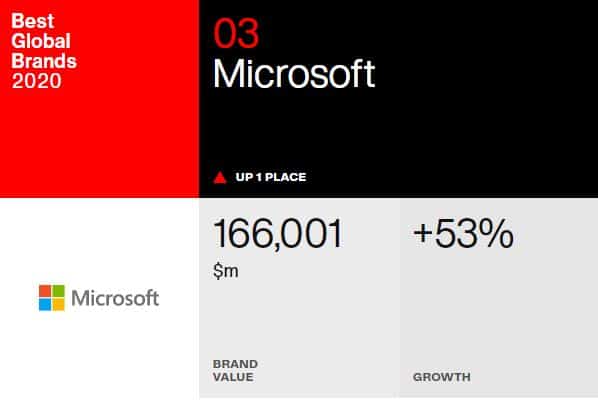 Der Wert von Microsoft steigerte sich auf 166 Milliarden Dollar und verwies Google damit auf den vierten Platz. An der Spitze steht nach wie vor Apple mit einem Wert von 322 Milliarden Dollar und einem Plus von 38 Prozent. Auf Platz zwei landet Amazon mit 200 Milliarden und einem stolzen Zuwachs von 60 Prozent.
Aber auch die gesamte Branche hat zugelegt. So heißt es in dem Bericht:
The overall value of the table has increased to US$2,336,491m (up 9% from 2019). Driving growth of the table is big tech. Average brand value growth among all growing brands was 14%. Average growth of technology and tech platform brands was 20%. Technology and tech platform brands now represent 48% of total table value versus only 17% in 2010. The top 3 brands in the table (all tech) represent 30% of the value of the entire table versus only 16% in 2010.

Der Gesamtwert der Tabelle ist auf 2.336.491 Millionen US-Dollar gestiegen (+9% gegenüber 2019). Die treibende Kraft für das Wachstum der Tabelle ist Big Tech. Der durchschnittliche Markenwertzuwachs aller wachsenden Marken betrug 14%. Das durchschnittliche Wachstum der Technologie- und Technologieplattformmarken lag bei 20%. Technologie- und Technologieplattformmarken machen jetzt 48% des Gesamtwerts der Tabelle aus, gegenüber nur 17% im Jahr 2010. Die drei führenden Marken in der Tabelle (alle Technologiebereiche) machen 30% des Wertes der gesamten Tabelle aus, verglichen mit nur 16% im Jahr 2010.
---
via mspoweruser