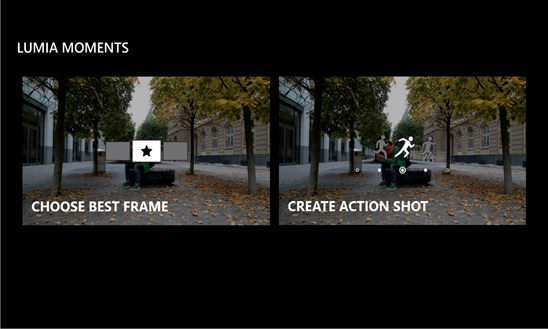 Im Fährwasser von Lumia Denim, schwimmen auch ein paar neue Apps mit. Lumia Camera 5 ist zwar das bekannteste, aber nicht das einzige Beispiell. Microsoft hat heute Lumia "Moments" für die Besitzer des Lumia 830, 930 und 1520 veröffentlicht. Voraussetzung für die Nutzung der App ist für jene Besitzer die neue Firmware Denim – garantiert funktioniert die Anwendung im Moment also nur mit dem Lumia 830, welches bereits mit der neuen Firmware ausgeliefert wird.
Lumia "Moments" erlaubt dem Anwender einzelne Bilder aus einer Serienaufnahme zu extrahieren, oder "Living Images" aus Videoteilen zu erstellen – das alles in 4 k Auflösung (Full HD beim Lumia 830).
Die Originalbeschreibung lautet wie folgt:
With Lumia Moments you can extract great action shots from your videos or 4K Moment shots on your Lumia (or full HD shots on the Lumia 830).

Use Best Frame to find pictures and save them as Living Images, then see them brought to life in the camera roll or Lumia Storyteller. Action Shot lets you add a strobe effect to show action or add blur to emphasize motion.

Lumia Moments is available for Lumia 830, Lumia 930, Lumia Icon and Lumia 1520 as part of the Lumia Denim update. To get the latest software update for your phone, go to Settings > Phone Update
Für alle glücklichen Besitzer der unterstützten Geräte und passender Firmware gibt es hier den Downloadlink:
Habt ihr die App schon ausprobieren? Lasst uns einen Comment da!
Quelle: NPU