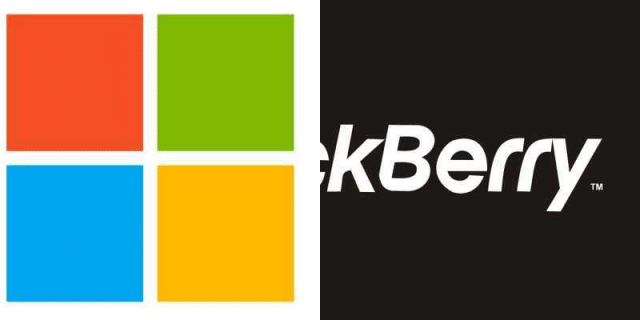 Microsoft und Blackberry werden in Zukunft Partner sein und die brandneue "Blackberry Enterprise Bridge" (BEB)- Lösung anbieten. Mit der BEB werden Microsofts Dienste direkt über Blackberry Dynamics abrufbar sein.
Die Blackberry Enterprise Bridge soll Geschäftskunden wie Banken, medizinischen Einrichtungen, Justizeinrichtungen und Regierungsstellen, einen nahtlosen Gebrauch von Microsofts Diensten und Lösungen ermöglichen.
Blackberrys Ziel: Das sicherste Smartphone anbieten
Carl Wiese, Blackberry-Präsident im Bereich Sales, kündigte folgendes an:
BlackBerry hat den Markt immer mit neuen und innovativen Möglichkeiten zum Schutz von Unternehmensdaten auf mobilen Geräten geführt. Wir sahen einen Bedarf an einer hyper-sicheren Möglichkeit für unsere gemeinsamen Kunden, native mobile Office 365-Apps zu verwenden. BlackBerry Enterprise BRIDGE trägt diesem Bedarf Rechnung und ist ein großartiges Beispiel dafür, wie BlackBerry und Microsoft die Mitarbeiter in der heutigen vernetzten Welt weiterhin hoch produktiv arbeiten lassen.
Judy Althoff, Microsoft Vice President Worldwide Commercial Business, stimmte so mit ein:
In einer Zeit, in der die Digitaltechnologie eine schnelle Transformation vorantreibt, suchen die Kunden nach einem vertrauenswürdigen Partner. Unsere Kunden entscheiden sich für Microsoft 365 für Produktivitäts- und Collaboration-Tools, die kontinuierliche Innovationen bieten und dies sicher tun. Zusammen mit BlackBerry werden wir dies auf die nächste Stufe heben und Unternehmen einen neuen Standard für sichere Produktivität bieten.
Neben der Ankündigung von Blackberry Enterprise Bridge, gibt es eine weitere Neugikeit. BlackBerry UEM Cloud, BlackBerry Workspaces, BlackBerry Dynamics und BlackBerry AtHoc lagern ihre Daten nun auf der Microsoft Azure Cloudplattform.
---
BlackBerry and Microsoft Partner to Empower the Mobile Workforce

WATERLOO, Ontario and REDMOND, Wash., March 19, 2018 (GLOBE NEWSWIRE) — BlackBerry Limited (NYSE:BB) (TSX:BB) and Microsoft Corp. (NASDAQ:MSFT) today announced a strategic partnership to offer enterprises a solution that integrates BlackBerry's expertise in mobility and security with Microsoft's unmatched cloud and productivity products.

Through this partnership, the companies have collaborated on a first-of-its-kind solution: BlackBerry Enterprise BRIDGE. This technology provides a highly-secure way for their joint customers – the world's largest banks, healthcare providers, law firms, and central governments – to seamlessly use native Microsoft mobile apps from within BlackBerry Dynamics.

By making Microsoft's mobile apps seamlessly available from within BlackBerry Dynamics, enterprise users will now have a consistent experience when opening, editing, and saving a Microsoft Office 365 file such as Excel, PowerPoint, and Word on any iOS® or Android™ device. This enables users to work anytime, anyplace, with rich file fidelity. At the same time, corporate IT departments benefit from a greater return on their existing investments, and added assurance that their company's data and privacy is secured to the highest standards and in compliance with corporate and regulatory policies.

"BlackBerry has always led the market with new and innovative ways to protect corporate data on mobile devices," said Carl Wiese, president of Global Sales at BlackBerry. "We saw a need for a hyper-secure way for our joint customers to use native Office 365 mobile apps. BlackBerry Enterprise BRIDGE addresses this need and is a great example of how BlackBerry and Microsoft continue to securely enable workforces to be highly productive in today's connected world."

"In an era when digital technology is driving rapid transformation, customers are looking for a trusted partner," said Judson Althoff, executive vice president of Worldwide Commercial Business at Microsoft. "Our customers choose Microsoft 365 for productivity and collaboration tools that deliver continuous innovation, and do so securely. Together with BlackBerry, we will take this to the next level and provide enterprises with a new standard for secure productivity."

"Along with a number of our peers in the Financial Services industry, we see strategic partnerships like this one as key to enhancing and bringing new products to market," said George Sherman, Managing Director, CIO Global Technology Infrastructure, JPMorgan Chase. "This partnership will help create a more seamless mobile experience for end-users, which is a top priority for us at JPMorgan Chase."

Lastly, the companies shared that the BlackBerry Secure platform for connecting people, devices, processes and systems, has been integrated with the Microsoft Azure cloud platform. Specifically, BlackBerry UEM Cloud, BlackBerry Workspaces, BlackBerry Dynamics, and BlackBerry AtHoc are now available on Azure.

To learn more, please visit BlackBerry.com.

About BlackBerry

BlackBerry is an enterprise software and services company focused on securing and managing IoT endpoints. The company does this with BlackBerry Secure, an end-to-end Enterprise of Things platform, comprised of its enterprise communication and collaboration software and safety-certified embedded solutions.

Based in Waterloo, Ontario, BlackBerry was founded in 1984 and operates in North America, Europe, Asia, Australia, Middle East, Latin America and Africa. The Company trades under the ticker symbol "BB" on the Toronto Stock Exchange and the New York Stock Exchange. For more information visit BlackBerry.com, and follow the company on LinkedIn, Twitter and Facebook.

About Microsoft

Microsoft (Nasdaq "MSFT" @microsoft) is the leading platform and productivity company for the mobile-first, cloud-first world, and its mission is to empower every person and every organization on the planet to achieve more.