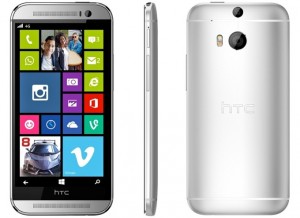 In letzter Zeit kursierten im Netz viele Gerüchte über eine Windows Phone Variante des M8 von HTC. Gestern sind diese Gerüchte tatsächlich bestätigt, und das HTC One M8 for Windows vorgestellt worden. Das ganze hat allerdings einen Haken – hieß es doch, dieses Gerät soll ausschließlich dem amerikanischen Mobilfunkanbieter Verizon zur Verfügung gestellt werden.
Wahrscheinlich als Reaktion auf die gefolgte Enttäuschung hat Jason Mackenzie, der Vorsitzende für HTC für den amerikanischen Markt, sich gegenüber TheNextWeb geäußert. Es ist die Rede davon, noch 2014 mehr Kunden erreichen zu wollen:
Verizon is our exclusive launch partner […] But our goal is to ultimately extend this product to even more customers later this year. (Jason Mackenzie, Chef von HTCs US-Sparte)

AT&T confirmed it will add the new HTC One M8 for Windows® to its leading portfolio of Windows Phone 8.1 devices. Further details on pricing and availability will be announced at a later date. (AT&T Pressemeldung)
Dies bedeutet also, dass Verizon lediglich ein Exklusiv-Partner sei und das Gerät im Laufe des restlichen Jahres noch andere Kunden erreichen soll. Leider gibt es keine Aussage darüber, ob das Gerät nun weltweit oder eben einfach nur für weitere amerikanische Provider bereitgestellt wird. Da Mackenzie allerdings lediglich der Manager für Amerika ist, sollte man nicht zu viel erwarten.
Eine Möglichkeit ist dennoch, dass das HTC wie das Nokia Lumia Icon anfangs ein Verizon-Exclusive-Modell war und einige Wochen darauf als Nokia Lumia 930 Weltweit verfügbar war.
Bild: Archiv
Quelle: WPArea