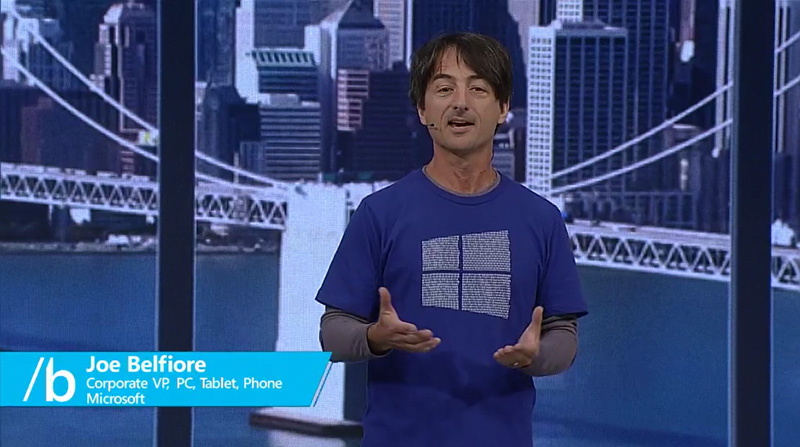 Windows Mobile Chef Joe Belfiore hat auf der Build Konferenz mal wieder den Geek raushängen lassen. Das Motiv auf seinem T-Shirt war nur auf den ersten Blick ein normales Windows Logo – tatsächlich war darin eine Botschaft in Binärcode verschlüsselt (wie er selbst nicht zu erwähnen vergaß). Und so rätselten etwa 5000 Build Besucher vor Ort und Zehntausende Live-Stream Zuschauer vor ihren Computern, welche Geheimbotschaft der Microsoft Manager wohl für uns versteckt hat.
Developer Kévin Gosse hat den Code nun entschlüsselt und das Rätsel gelöst. Wer eine spektakuläre Ankündigung erwartet hat (etwa den Release Date von Windows 10 für Phones) wird aber leider enttäuscht sein. Hinter der Folge von 0en und 1en verbirgt sich "nur" eine weitere, humoristische Anspielung auf den Namen von Windows 10 und ein etwas ernst gemeinterer Hinweis auf das Windows Insider Programm. Hier die 4 Sätze, die Kévin entschlüsselt hat:
There are 10 types of people in the world. (Es gibt 10 Arten von Menschen auf der Welt)
Windows 10, because 7 8 9.
Congrats on being one of the first. (Gratulation, du bist einer der ersten)
Windows Insiders help us develop the future. Talk to us @ Windows. (Windows Insider helfen uns die Zukunft zu entwickeln. Sprich mit uns @ Windows)
Der zweite Satz ist natürlich wieder der alte Gag, der nur auf Englisch funktioniert weil er auf die phonetische Ähnlichkeit zwischen "eight" (acht) und "ate" (gegessen) anspielt. Also: Windows 10, weil 7 die 9 gegessen hat.
Es ist nicht das erste Mal, dass Joe Belfiore einen Geheimcode auf seinem T-Shirt versteckt. Kürzlich hatte auch Gabe Aul, der Leiter des Windows Insider Programms, einen Faible für Kryptographie demonstriert, in dem er einen Hinweis auf den Veröffentlichungstermin der Windows 10 Preview für Phones im Oktalsystem kodierte.
Irgendwie wünscht man sich ja auch, dass die Leute, die bei Microsoft arbeiten, richtige Geeks sind…
---
via TheVerge