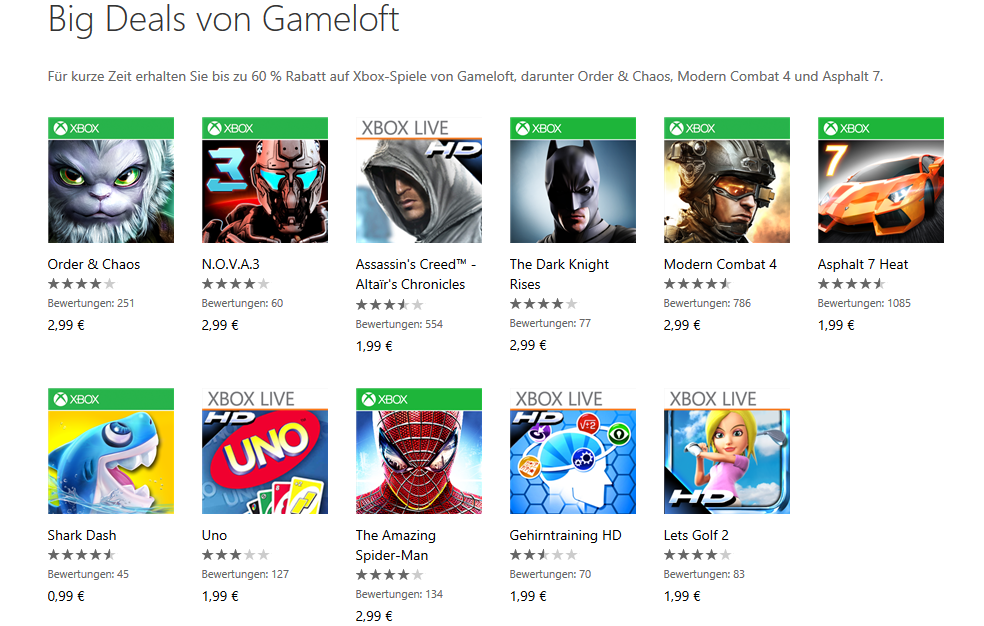 Gameloft hat scheinbar SSV, denn unter dem Aufhänger "Big Deal" haut das renommierte Entwickler Studio seine Top Titel für bis zu 60% weniger raus. Wer schon länger ein Auge auf Titel wie Order & Chaos, N.O.V.A. 3, The Dark Knight Rises, Modern Combat 4 und The Amazing Spider-Man geworfen hat und einem Preise von mehr als 6€ bislang zu Fett gewesen war, für den Ist es die Gelegenheit. Denn alle diese Titel sind nun für 2,99€ zu haben. Aber das sind bei weitem noch nicht alle, auch etwas ältere Titel wie Let's Golf 2 und Assassin's Creed – Altaïr's Chronicles sind mit von der Partie.
Wer jetzt auf den Geschmack gekommen ist, der sollte ein Blick in den Windows Phone Store riskieren den hier findet Ihr die "Big Deals von Gameloft" in einer gesonderten Sammlung, oder klickt einfach auf das Banner.

Welche dieser Gameloft Titel könnt Ihr für andere Interessenten empfehlen? Sagt es uns in den Kommentaren.