Aktuell gibt es Probleme beim Versenden von Emails aus Google Mail. So ist es teilweise nicht möglich Anhänge zu Mails hinzuzufügen. Andere Benutzer melden, dass man auf Google Drive gar nicht zugreifen kann. Ich selbst hatte das Problem, dass nach dem Löschen des Spamordners ein Wechsel in den Posteingang nicht möglich war.
Zu langsames Internet als Auslöser?
Auf Twitter finden sich bereits einige Meldungen zur Störung, diese scheint also global zu sein.
I was the first one to raise the question pic.twitter.com/m6m5PPRgft

— Professor sarcastic🇮🇳 (@manikkesar) August 20, 2020
Twitter User @JustMariner ist der Ansicht, dass die Ursache eine zu langsames Internetverbindung sein könnte, etwas, das ich persönlich für eher unwahrscheinlich halte.  Eure Internetgeschwindigkeit könnt ihr hier mit dem Okala Speedtest messen.
Der Lösungsvorschlag von @JustMariner ist, dass man anstelle der App einfach die HTML-Version verwenden sollte.  Einen Versuch ist es sicher wert, garantieren, dass es dann funktioniert, können wir natürlich nicht.
Auf der Seite Downdetector könnt ihr die aktuelle Entwicklung mitverfolgen. Ein Statement von Google ist momentan noch ausständig.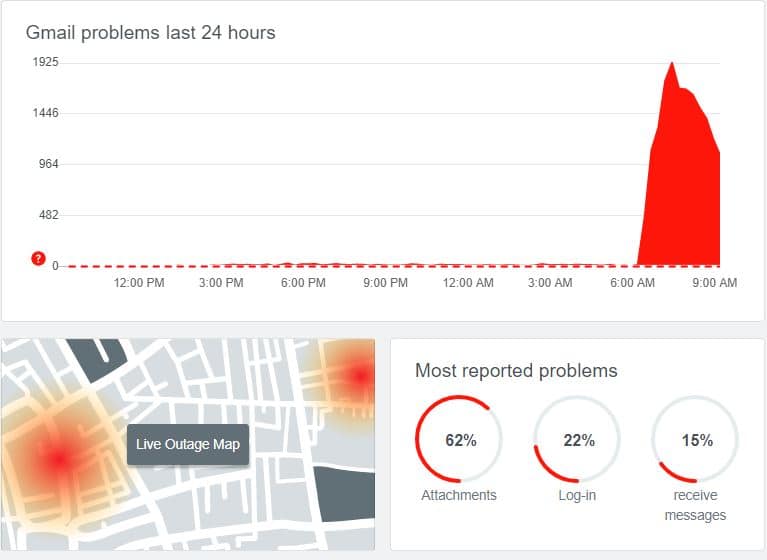 (c)Downdetector
---